We think it's important to produce clothing that does good for our customers and employees as well as the planet. Therefore, we keep our production and supply chains transparent. They are not hidden, as we are proud of our choices.
All the materials we use are natural or recycled, such as GOTS certified organic cotton, Mulesing-free merino wool, Tencel and viscose bamboo. The dyes used in our prints are up to the Öko-Tex-100 standard, which makes them safe to use.
All clothing production produces surplus fabric; we use our surplus for baby mittens, booties and beanies. To minimise the surplus, we take into account its possible reuse before cutting the fabric. We have chosen sustainably produced electricity for our sewing factory, we monitor our carbon footprint and always look for new ways to cut down our consumption and production emissions. Our local production enables us to not to use plastic. For packaging we use mailing bags made of recycled materials.
All our clothing is designed and sewn in our own factory in Jyväskylä. It is important to us to keep the sewing production in our hometown. In Jyväskylä we are following in the footsteps of Tutta-Tuote, a collection of Finnish kid's wear – brand Reima.
Our own production is our advantage. It gives us the opportunity to respond quickly to our customers wishes. If needed, new products can be brought to life from design in just a few weeks. 95 % of our fabrics come from Finland and the remainder from Lithuania. We aim to keep the rest of our materials domestic. For us, it is key to know where and how our bought-in materials are produced. Therefore, we can be sure our products are ethical and produced safely without any unwanted chemicals.
We don't design our clothes or patterns according to seasons. Instead, our products are timeless and unisex to fit their purpose throughout the year. Our materials are of high quality and long-lasting. To extend the life cycle of the clothing, we use ribbing and double seams. When it comes to kid's clothing, most of the life cycle is spent in the washer. We have included washing instructions for each product separately in our web shop. The washing instructions can always be found on the product as well. If a customer does find a problem with our product, we will firstly try to mend the clothing rather than replace it. Out clothes are designed and made to last both time and life.
A child's skin is very delicate and should only be in contact with carefully selected materials. We use only the best possible materials and believe quality and ecological materials to be the foundation of any clothing.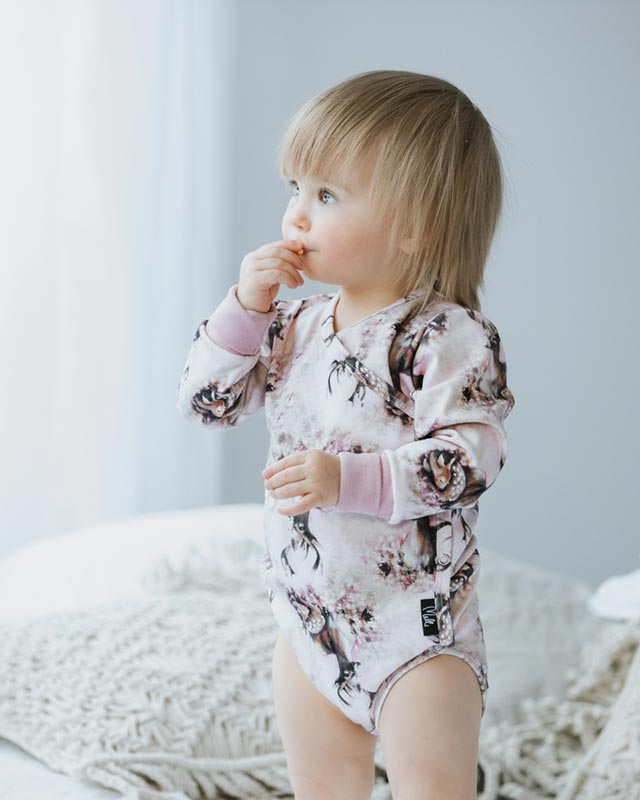 ORGANIC COTTON
Organic Cotton is ecologically produced cotton. Only natural fertilizers are used in its production. Chemicals have not affected either the environment or the plants. The cotton used in our clothing has been farmed in Germany. The harvest is done by hand, which makes it possible only pick the ripe cotton balls. Picking by hand does not produce any emissions and the cotton does not include as much plant matter as it would if collected by machine. The cotton thread we use is GOTS certified. Products made from organic cotton, are long-lasting and have a pleasant feel against the skin. The fabric wicks moisture and does not produce static.
MERINO WOOL
Merino Wool has long fibres and is fine wool, which feels comfortable against the skin. This makes it suitable for thermal underwear and children's clothing. The fibre in Merino wool wicks moisture, traps air and insulates for warmth. If the wool gets wet, it swells and becomes curlier. Therefore, the wet wool still feels warm, due to the air between the curly fibres.
With our products, we only use "super-wash" Merino wool, which is machine washable. However, we do recommend wool wash detergent to get the best result. The bulk of the Merino wool we use, is ethically produced mulesing-free wool. Mulesing means a painful surgical procedure done to the sheep to prevent parasite infections, which would affect the wool production.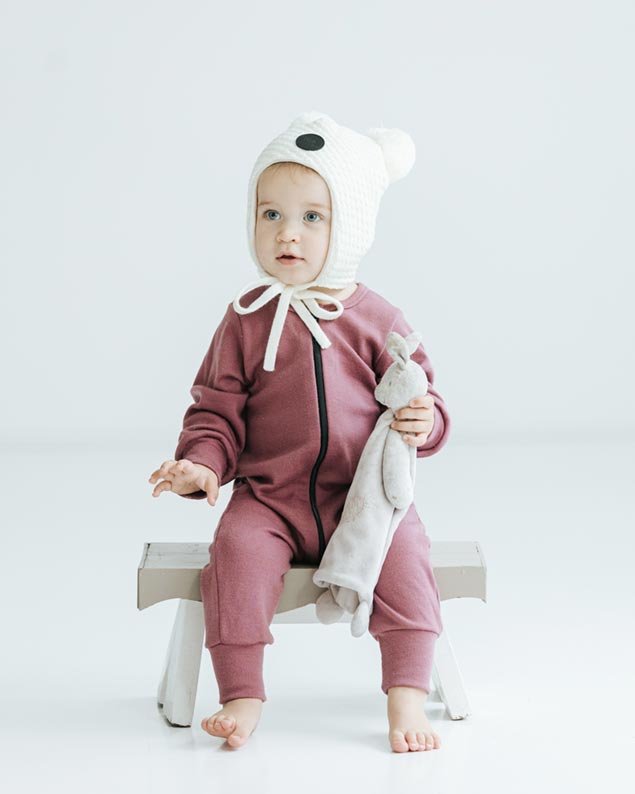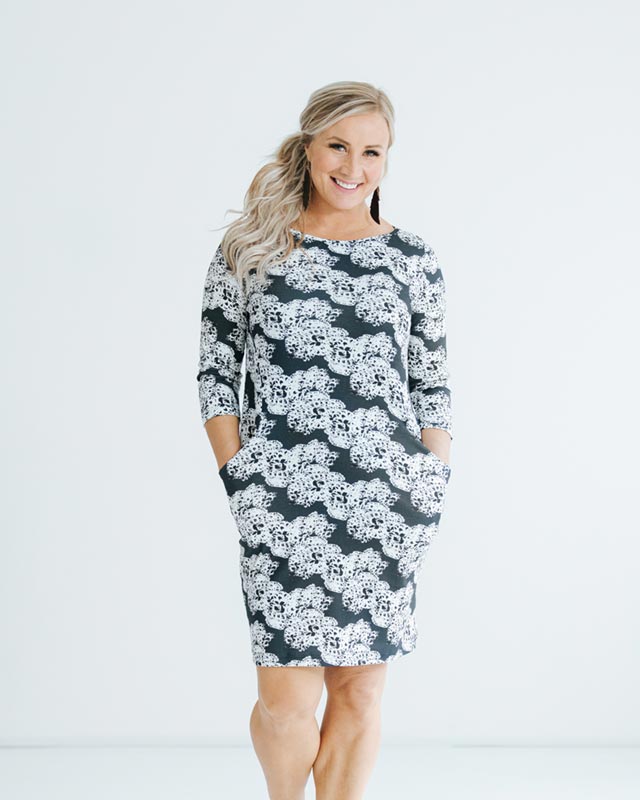 TENCEL
Tencel is a modified cellulose fibre, which is made from eucalyptus. The production process is more ecological than other similar fibres. Tencel has a silky feel and hold its dimensions well. It does not wrinkle easily, wicks moisture and evaporates it off the skin. It is antibacterial by nature.
MODAL
Modal is a spun cellulose fibre. It is more durable than viscose and does not wrinkle easily. Modal is similar to cotton and is often used as a blend with cotton in fabrics. In our products, we use modal fabric that is spun using the compact method. This means that the ends of the fibres are inside the thread making the fabric surface smooth and sleek and it stays neater when used or washed.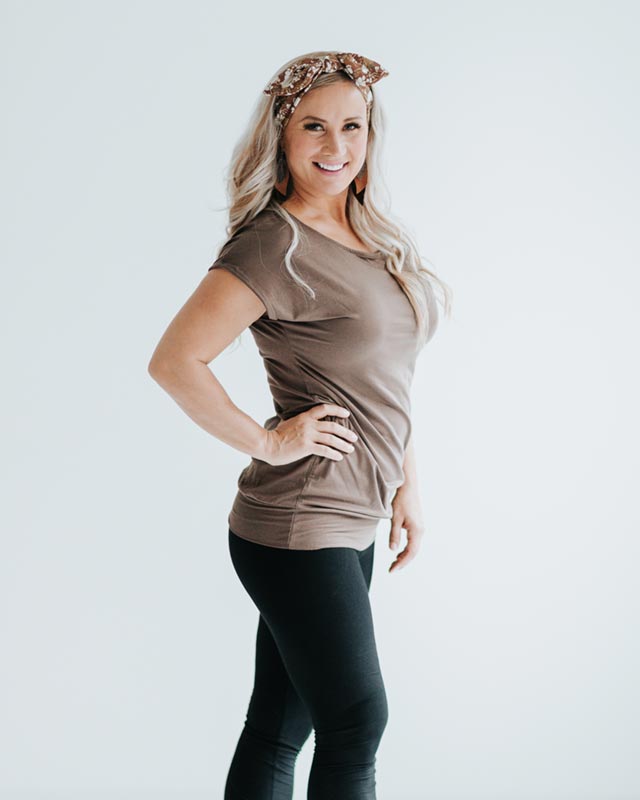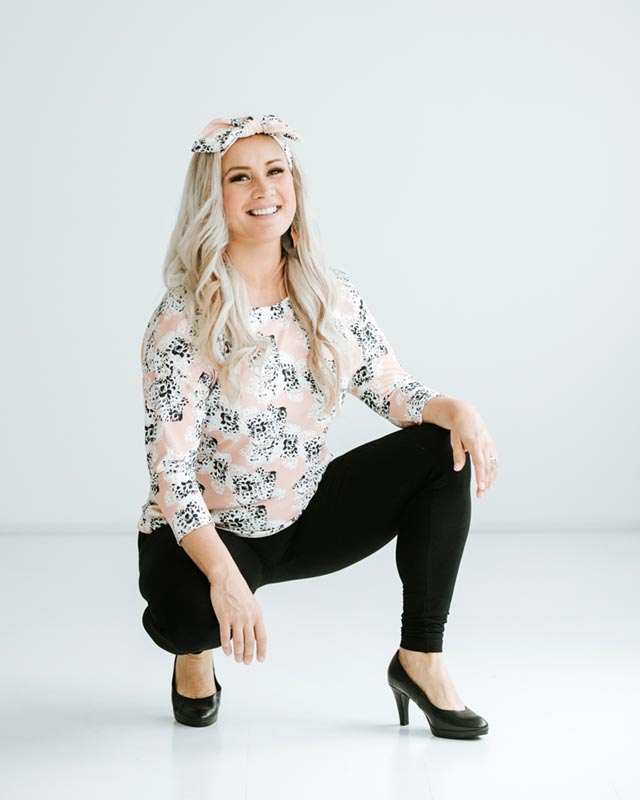 VISCOSE BAMBOO
Viscose bamboo is biodegradable cellulose modified fibre, which is produced in the same way as viscose. The ingredient, however, is quickly renewable farmed bamboo. Viscose bamboo is a long-lasting, very absorbent and breathable material. Due to its antistatic properties and soft feel it is pleasant to wear. It is also hypoallergenic therefore suitable for people with sensitive skin. Because of all this it is a perfect material for sports wear and lingerie.